Who We Are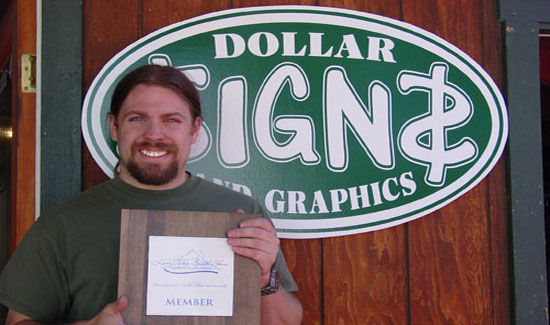 Yan Campbell, Owner / Designer / Sign Maker
Entrepreneur, Web Designer & SEO Expert since 1997
Bachelor's Degree in Business Management and Marketing from UMASS, Class of 1997
How We Do It
High quality materials
Attention to details
Fast turn-a-round
Competitive prices
Friendly service
---
Our Products & Services
Any type of Business Signs and Banners
Channel Letters & Backlit Signs
Printed Products of All Kinds
Wide Format Tradeshow Displays
Graphic & Logo Design
Web Site Design
Search Engine Optimization (SEO)
Advertising & Branding Services
Signs Repairs, Maintenance & Crane Services
---
Our History
Dollar Signs was started in 1985 by David Lanyi. In his garage, David built artwork from the ground up, mostly hand painted and hand routed signs. His neighbors eventually complained of all the signs sitting in his front yard as they dried in the sun. That's when Dollar Signs got serious in 1989 and moved to it's current location on Lake Tahoe Boulevard where it still thrives today.
Under the ownership of Yan Campbell, Dollar Signs and Graphics continues to provide excellent signs at a very reasonable price. Yan Campbell has been a web designer since college. His degree in business management has helped Yan Campbell provide not only consulting advice but concrete products and direct marketing results to many businesses over the last two decades, specifically in company branding, ecommerce and graphic design and managing/promoting growth. Yan Campbell's experience in marketing and computers is very vast. Dollar Signs and Graphics also has specialists in sign making, sign installation, graphic design, web design, programming and high quality digital printing.
---
Remarks from the Owner
We hope you will consider us for your signage needs in Lake Tahoe or wherever you live. We even include free shipping on most orders.
Sincerely,
Yan Campbell
---
Call Us for a Free Quote!
530-544-7058
We will beat any reasonable, written estimate by 5%.